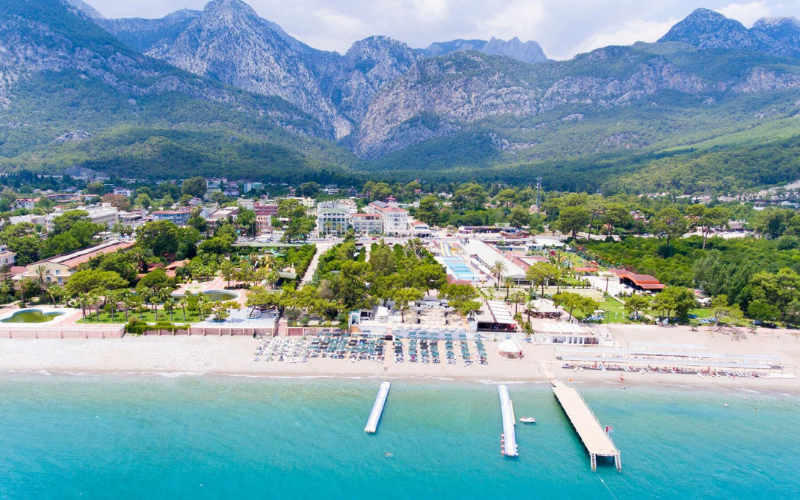 What is Beldibi famous for
Beldibi is closely adjacent to the Olympos-Beydaglari National Park with a majestic mountain range and coastal areas. Beldibi beaches hold the Blue Flag for excellent infrastructure and cleanliness. For romantics and those who like to relax in silence, there is a wild beach surrounded by high cliffs.
The center of Beldibi is one large long street with houses, hotels, squares and shops. But, even here, nature lovers have something to see. Conifers, exotic shrubs and banana groves grow everywhere. There are no historical sights in Beldibi. The city has a modern mosque, which is located next to the city beach. The shrine is surrounded by green spaces. And the road to it is lined with aquamarine tiles along the palm trees. The entrance to the village is decorated with a stylized arch.
In the vicinity of Beldibi there is a cave of the same name with rock paintings from the beginning of the Stone Age. Pottery and tools were found here, which can now be seen in the Archaeological Museum. The entrance to the cave is free.
If you come to Beldibi with children, then they will certainly be interested in riding the water slides. There is no water park in the village, but large hotels have their own small parks with water activities. There are children's and sports grounds on the embankment.
Green and blooming Beldibi is ideal for family holidays, which can be diversified by booking interesting excursions. Dozens of exciting routes, entertainment and adventures are waiting for you at a price of 10$.