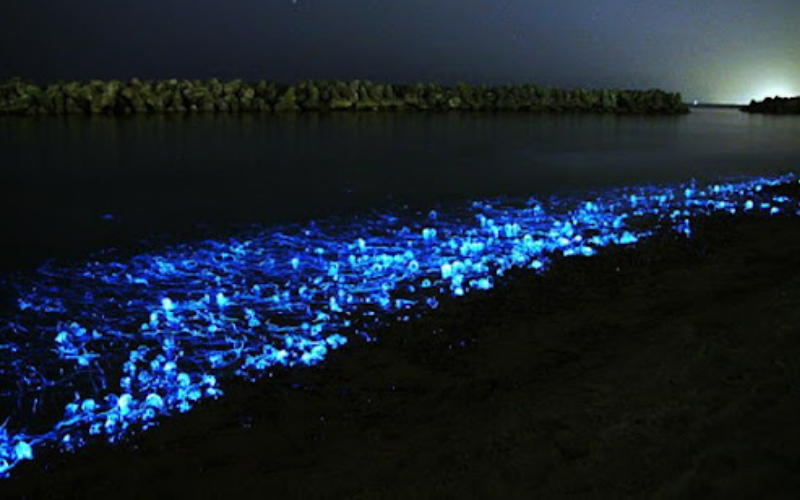 Camyuva Paradise Bay
Camyuva Paradise bay, which is very beautiful day and night. The enchanting combination of mountains, the Mediterranean Sea and the forest will leave no one indifferent. Lebanese cedars, elfin trees, pines, cypresses and wild rose grow near the bay. The sea here is always warm and calm due to the surrounding mountains. The water shimmers in shades of blue and washes the shore with a clean beach. Turkey has many beautiful places, but each has its own flavor, Camyuva Paradise Bay is no exception.
Peculiarity of the Paradise Bay of Camyuva
The peculiarity of Paradise Bay Camyuva is that with the onset of darkness Camyuva Paradise Bay turns into a starry sky. There is a feeling that hundreds of small underwater fireflies live here. In fact, this effect is created by marine life from the class of protozoa - flagellates. They are called noktilyuks or night lights. They produce a substance called luciferin, which combines with oxygen to produce a neon glow. Sometimes the hue changes from turquoise to green. Such a sight can be seen in the velvet season September - October.
Firefly Bay
Firefly Cove is located in the southwest of Camyuva. You can reach it on foot, if you go along the highway, then the first branch will be towards the mountain, and the next to the left into the forest, which will then lead to the coast of the bay through the forest belt. The route is winding and the safest way to get there is by boat.
The easiest way is to book a tour A trip on a pirate ship . The cost of the excursion for adults is $ 15, and $ 8 for children. You will visit Camyuva Paradise Bay, and Moonlight Bay, stroll through the ancient city of Phaselis. An interesting program, exciting contests and a foam party await you on board. The price includes pick-up from your hotel, insurance and a delicious lunch. This is a fun family tour that will enhance your holiday.